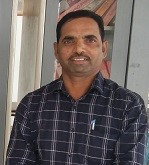 Mr.Jagtap Ajit Babanrao
Assistant Librarian
The Someshwar Science College, Someshwarnagar is established by the Shri.Someshwar Shikshan Prasarak Mandal's in 2007. Behind this opening of education institute their object was "Development through co-operation". From 2007-08 this college is marching progressively to provide avenue for higher education in rural area. Every effort is made here to promote the students higher education opportunities, and in this view special attention is given to the library.
Services: Library offers following services
Book lending
Reprography
Extended reading room availability
Internet Searching and printing
Reference Services
Inter Library Loan
Institutional Subscription:
| Sr No. | Material | Numbers |
| --- | --- | --- |
| 1 | Books | 5283 |
| 2 | CDs/DVDs | NA |
| 3 | Journals/Magazines | 17 |
| 4 | Newspapers | 08 |
Future plans
To take efforts to increase students interest in reading and research.
To enrich the collection of library.
To enrich the digital resources in the Digital Section.
To take membership of more libraries and share their resources.
Library Hours
9.00 a.m. to 4.30 p.m. (Monday to Saturday)
Rules
Identity cards are mandatory in the library.
Use of speaker phones/headphones is not allowed in the library.
Use of mobile phones is strictly prohibited in the library.
Switch of your mobile phones in the library.
User has to take care of the library books, if the books are torn, mishandled the user has to pay fine for the same.
Mutual conversation is not allowed in the library to keep the reading room environment cool and calm for studying and reading.
Users must be polite with the library staff.
Any improvement, suggestions, or complains are to be suggested to the librarian as and when required.
Institutional Memberships
Institutional Subscription:
Departmental Staff of
Library

: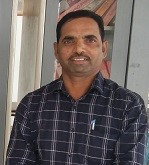 Name: Mr. Jagtap Jitendra Bhagvanrao
Designation: Librarian
Qualification: M.A.M.Lib.I&Sc
Experience: 12 Years
Email ID: jagtapajitd@gmail.com
Phone: 9561182521